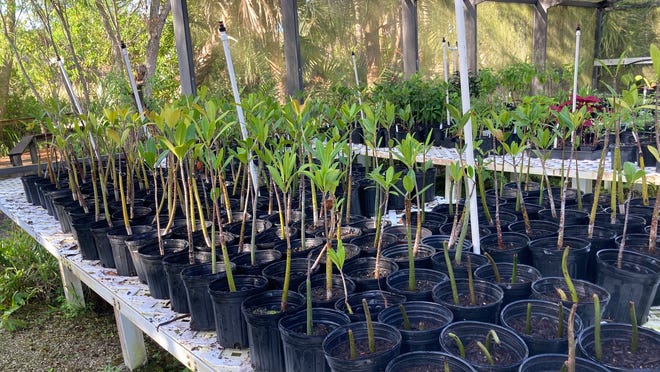 The Sanibel-Captiva Conservation Foundation (SCCF) runs a volunteer effort to restore mangroves on three small islands in Pine Island Sound between the islands and the Florida mainland. The program is managed by the Sanibel Sea School.
According to the Ft. Meyers News-Press:
Kealy McNeal, the conservation initiative coordinator at the Sanibel Sea School, said the program was a way to get the community involved.
"Really, the biggest part of this is the education component of the initiative," McNeal said. "Not only are we having the volunteers grow mangroves but we're also having them understand why they are growing them: how animals rely on them, how they reduce erosion, manage water quality and create a buffer against storm damage."
…
The starter kits volunteers take home contain a one-gallon pot filled with soil and a red mangrove propagule, which is about 10 inches long and shaped like a string bean. Red mangroves, as opposed to the white or black species, are a bit easier to grow, McNeal said.
"Really, just make sure they are watered and receive some love every once in a while," she said. "We've received really great feedback from volunteers on survival rates."
…
Once the volunteers' plants are ready this fall, they can join McNeal and others out to Hemp, Benedict and Bird keys in Pine Island Sound to plant the young mangroves.
"The reason why we picked those restoration sites is because of the damage they received from Hurricane Charley in 2004 — and they were almost completely decimated," McNeal said. "They've been really slow to come back."